It is Carers Week 10 -16 June so I am writing a special blog.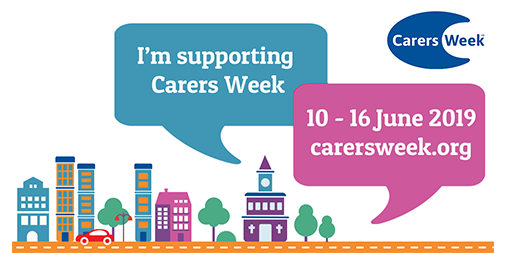 All the people that know me know that I have been ill all my life.  When I get letters from my consultant at Brompton all my health problems and medications spread on 2 pages of the A4 letter before the text of the letter gets written.
I worked for 20 years in banking and that is where I met my present husband!  (I love him really).  I insisted that we live together before getting married as I wanted to make sure he could cope with me coughing and doing my lung clearance also frequent hospital appointments and arrangements being cancelled at the last minute because I was unwell.  Well thankfully he stuck with me and we married in 1987.
Brilliant day even though I had a chest infection at the time.  Well, my health started to deteriorate when I was in my early 40's.  I dealt with the public every day and I think I just kept getting infections so when they were looking for voluntary redundancies I went for it.  I did some part-time work covering for counter staff at another bank during lunches but eventually, I had to give that up as well.  My quality of life improved and for a few years it was great as I was able to do all the mundane things that needed doing so weekends hubby and me could do things together.  Then both my femurs snapped because of osteoporosis.  Hubby had to start doing more and be the breadwinner.  Things were difficult for a while and it did put pressure on both of us.  Me feeling depressed as I could not contribute much and hubby having no time for himself and relax.
Well, 3 years ago my husband's job was being sent to India.  He had the choice of redundancy or being relocated.  Well the choice was quite scary as he would have to take what was offered if relocated or as he was 59 we would have no income other than my small pension (which I took at 50) and I have a motability car.  We were fortunate that we had been left some money 7 years previous and we paid off our mortgage to make things easier.  We opted for redundancy and he could take his pension at 60.  He had worked for 40 years.  We tightened our belts and it was the best thing ever.
In the past year my health has really taken a nose dive.  I would be lost without him being at home.  There are days when I cannot flip the lids on the nebuliser drugs.  I have 4 different medications that I inhale, 2 of which have to be mixed.  He does all the ironing now and cleaning without moaning and is always there when I need help.  It is the little things.  I get so frustrated sometimes at the way I look.  He helps me colour my hair when I need a lift and is always happy if I wake in the morning feeling good we do things on impulse.
Life is pretty good.  On the days I feel really rough he goes fishing so I have a day watching my sci-fi on the telly.  I have my Aspergillosis Trust things to keep me sane and he has his fishing and he paints model soldiers.  We are lucky in the respect that even though we don't have much of an income we cope and enjoy life.  I keep saying to my husband that when we get our pensions we will be rolling in it, I just hope I make that age and I can keep going.  I am a big believer in quality over quantity so being able to enjoy things with the people I care about is great and time doesn't cost anything but worth everything.  The quality of my life is so much better with his help.  People say it goes both ways and I do feel I contribute but he does most of the hard work.
So a big thank you to all carers, young and old.  They are not appreciated enough and they must go through mental anguish sometimes when trying to help the ones they love. Where would all of us with chronic illnesses be without support.
Take care. x
http://www.aspergillosistrust.org